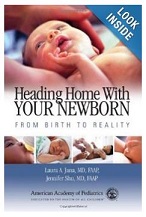 Book Title:
Heading Home With YOUR NEWBORN
A Little bit about the book:
This comprehensive guide for new parents finding themselves overwhelmed dealing with the reality of parenting provides "parent-tested, pediatrician-approved" advice to allay their fears. Written in a compassionate yet authoritative tone by two moms who are also pediatricians, this guide covers a wealth of topics that often prove daunting in the first eight weeks of a child's life. Starting with
• "Into the Mouths of Babes" (the trials of breastfeeding) and
• "What Goes in Must Come Out" (a discussion of "pee and poop") and
• "Fever: Trial by Fire" and
• "Seeing Yellow: Jaundice,"
This guide offers sound advice that will enable parents to feel confident about their parenting skills.
You will also find hints on
• daily living,
• sleep patterns,
• crying,
• the art and science of diapering, and
• traveling with a newborn.
To Buy:
click here.
.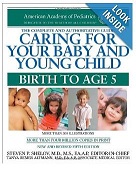 Book Title:
Caring for Your Baby and Young Child, Birth to Age 5
A Little bit about the book:
The most up-to date, expert advice for mothers, fathers and care providers from the American Academcy of Pediatrics.
From the most respected organization on child health comes this essential resource for all parents who want to provide the very best care for their children. Here is the one guide covering everything from preparing for childbirth to toilet training to nurturing your child's self-esteem. Whether it's resolving common childhood health problems or detailed instructions for coping with emergency medical situations,
Caring for Your Baby and Young Child
has everything you need.
• Basic care from infancy through age five
• Guidelines and milestones for physical, emotional, social, and cognitive growth
• A complete health encyclopedia covering injuries, illnesses, congenital diseases, and other disabilities
• Guidelines for prenatal and newborn care with sections on maternal nutrition, exercise, and screening tests during pregnancy
• An in-depth guide to breastfeeding, including its benefits, techniques, and challenges
• A complete guide for immunizations and updated information on vaccine safety
• A guide for choosing child care programs and car safety seats
• Ways to reduce your child's exposure to environmental hazards, such as secondhand smoke
• Sections on grandparents, building resilience, media, and multiples
• New chapters on sleep and on allergies—including food allergies
• New content on prebiotics and probiotics, organic foods, and other healthy lifestyle topics
• And much more..
To Buy:
click here.
.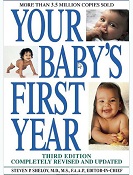 Book Title:
Your Baby's First Year
A Little bit about the book:
From the American Academy of Pediatrics—the nation's most trusted name in child care—Your Baby's First Year is the definitive all-in-one guide to caring for your infant. Revised and updated, including two new chapters on sleep and allergies, Your Baby's First Year provides authoritative advice on all aspects of infant care, including
• expanded sections on raising twins, multiples, and children with autism
• new material on prebiotics, probiotics, and the Tdap vaccine
• a month-to-month guide to your baby's first year with vital facts on growth, behavior, and development
• a complete health encyclopedia covering illnesses, injuries, and disabilities
• advice on breastfeeding, bottle-feeding, and introducing solids
• guidelines for choosing a child care provider
• safety checks for home and car, including a car safety seat shopping guide
• And much more
To Buy:
click here.
.